The information in this post exposes you to the leading tyre brands we sell at Alfa Tyre Protector Nigeria Enterprises.
Unless something goes very wrong, your car tyres remain the only part of the vehicle that makes contact with the road. The tyre you use in your car is very much dependent on the tyres you use.
The driving experience you get from your car is largely dependent on the tyres underneath it.
Find below the list of Quality brands of Tyre you can get at Alfa Tyre Protector Nigeria Enterprises: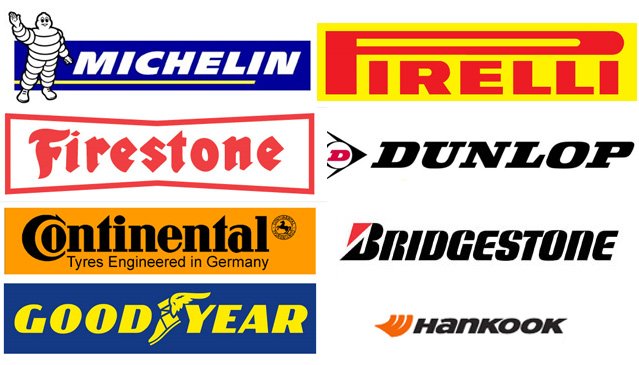 1. Bridgestone (Japan):
The Bridgestone Group delivers a wide range of tires to customers around the world, such as tires for passen­ger cars, trucks and buses, aircraft, const­ruction and mining vehicles, motorcycles, etc. As of 2017, the company is the largest manufacturer of tyres in the world, followed by Michelin (France), Goodyear (United States), Continental (Germany) and Pirelli (Italy).
Bridgestone Group had 181 production facilities in 24 countries as of July 2018.
2. Michelin (France):
Michelin is a French tyre manufacturer based in Clermont-Ferrand in the Auvergne région of France. It is the second largest tyre manufacturer in the world after Bridgestone and larger than both Goodyear and Continental.
3. Goodyear (USA):
The Goodyear Tire & Rubber Company is an American multinational tire manufacturing company founded in 1898 by Frank Seiberling and based in Akron, Ohio.
4. Dunlop (England):
Dunlop is a brand of tyres owned by various companies around the world. Founded by pneumatic tyre pioneer John Boyd Dunlop in Birmingham, England in 1889, it is owned and operated by Goodyear Tire and Rubber Company in North America, Europe, Australia and New Zealand
5. Firestone (USA):
Firestone Tire and Rubber Company is an American tire company founded by Harvey Firestone in 1900 initially to supply solid rubber side-wire tires for fire apparatus, and later, pneumatic tires for wagons, buggies, and other forms of wheeled transportation common in the era.
6. Ceat
The company was founded as Cavi Elettrici e Affini Torino (Electrical Cables and Allied Products of Turin) by Virginio Bruni Tedeschi in 1924, in Turin, Italy. On 10 March 1958, the company was incorporated as CEAT Tyres of India, in Mumbai. Initially, the company collaborated with the Tata Group.
7. Vikrant
1973 – The Company was Incorporated on 3rd October. The main object of the Company is to manufacture automobile tyres, tubes and camel back. – The Company entered into a technical collaboration agreement with Techno-Export Foreign Trade Co. Ltd., Czechoslovakia.
8. Austone 
The Austone brand, founded in 1999, is the fruit of cooperation between the American company Cooper Tire and Rubber Company and the well-known Chinese tyre manufacturer Shandong Chengshan Group.
9. Westlake
In 1995 it introduced WESTLAKE, a brand created for the international market. It is special designed based on the demand from the international market and provides a wider variety of products including PCR, TBR, OTR, agricultural tires and more.